Room Service Massage … massage provided on location (we come to you) … is now available in Kailua-Kona Hawaii.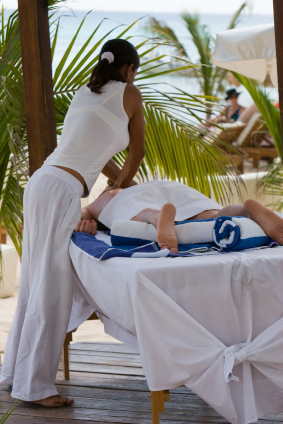 If you staying in the Kailua-Kona area of the Big Island; you now have another option.
Our licensed massage therapists (LMT) come to your condo, house or hotel room to provide you with a relaxing therapeutic massage.
We bring the massage table, sheets and oils to you so that once you are pampered and relaxed you don't have to leave your room until you are ready.
There are no extra travel charges and you will traditionally spend less than you would at the hotels and resorts in Kailua-Kona and yet, again, you don't need to go anywhere as we come to you.
After all, if you rented a luxurious condo, home or hotel room, why leave more often than you need to. Save your outings for snorkeling, hiking, the beach and golf.
Then, when tired or tight muscles threaten to ruin your stay in Hawaii, return to your room, call Tiare Massage and a licensed therapist will arrive to get the kinks out making your stay that much nicer.
Scheduling an appointment with our LMT's is easy.
Click Here to book your appointment online
or
Call us at +1-808-322-4720